Paper lanterns are inexpensive and extremely versatile. Paper lanterns are essentially hanging lanterns that are covered in a thin tissue paper. They are commonly used in Asian countries but you don't only have to use them in a thematic setting! Just like a ceiling light, a paper lantern can be used in almost any room as long as it is transformed into the right style.
A great idea is to enhance the simple structure of a paper lantern by adding details to it. For instance, add more tissue paper:
This lantern was simply made by gluing pieces of scrunched up tissue paper to the exterior of the hanging lantern. Another take on that paper lantern is this:
Speaking of scrunched up paper. If you bake a lot you might like this paper lantern:
Look at what it is enhanced with! Yes, those are cupcake liners! Did you know that you can also do this with coffee filters as well? Consider using bleached or unbleached filters and coloring the very ends with a marker or paint for an added touch of color.
Paper lanterns are great for a kid's room because of their low cost and casual styling. This lighting fixture is easily transformed to "wow" any child. Consider modifying your lantern into a flying animal…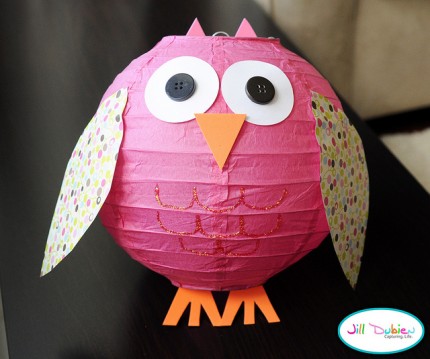 …or a creature from the sea:
What about thinking outside of the "round" ball that the paper lantern seems to be famous for? Can you believe this…
…was created from a paper lantern? Yes, a basic lantern…and paper that was cut into circles.
If you are trying to find paper lanterns to create similar projects, consider visiting your local dollar store, a superstore or a party store. Shop around because you will find different sizes, styles and price points.
To complete your masterpiece you might need a light as well. The hanging light can be found in similar stores and will fit inside the paper lantern, and act as the pendant that will suspend from the ceiling. You can also hang the lantern without the light. Images 1 | 2 | 3 | 4 | 5 | 6 | 7
Ready to build your own? Check out our large array of pendant lights to get some inspiration on your next project.
Tags: D.I.Y, DIY, do it yourself, hanging lanterns, lanterns, Lighting Fixture, Paper lanterns